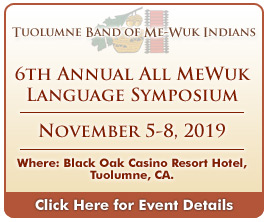 Carlos Geisdorff is the MeWuk Language Program Manager for the Education Department. With the assistance of Sonja Delgadillo, he heads the language program teaching both children and adults. The Tuolumne Tribe, Cultural Department along with the Tribal Education department supports the Language Program.
The Me-Wuk Language Program consists of:
Teaching the language to the youth in the after school program at the Chewewe: Kocha (Blue House) through lessons, interactive languages, games and songs.
Teaching the language to the education and recreation department staff (MeWuk Language Program Management Team) and adults through lessons, interactive language and games.
Teaching the language to other Miwok tribes and helping them develop their beginning language programs.
Cultural presentations and demonstrations in language. Including language in Tuolumne County in elementary and high schools.
Doing cultural presentations including language at the Shadow of the Me-Wuk Trail at Pinecrest, CA at the Summit Ranger District for the U.S. Forest Service in the summer.
Doing cultural presentations with language for summer youth camps.
Me-Wuk Language Symposium was developed to provide hands on lessons, inspirational speakers, education and net working of MeWuk communities. It is a three-day conference immersing students in culture and language.
Creating a Cultural Language archives for audio, video, and MeWuk language documents for research.
Carlos Geisdorff lives on the Tuolumne Reservation and is a voting tribal member of the Tuolumne Band of Me-Wuk Indians. He is the MeWuk Language Program Manager. Carlos has also received an American Indian Language Credential, where he teaches language to children and adults. He has attended Breathe of Life conferences in Berkeley, Language is Life conference at Marin Headlands, Davis and Wonder Valley, Living Language Circle sponsored by Yoche Dehe Wintun Nation and many other language conferences throughout the state. He is a member of the Tuolumne Me-Wuk Language Preservation Committee. As a child he learned traditional songs and dances with some language from a Miwük elder.
Sonja Delgadillo was hired by the Tuolumne Band of Me-Wuk in 2017 as the Administrative Assistant to the language program and is a tribal enrolled member. Prior to working with Carlos and the MeWuk Language Program, she has worked for the tribe since 2014 in various departments: Tribal Recreation Department, Black Oak Casino Hotel, and Temporary Assistant for Native Families (TANF). She brings with her well-rounded administrative experience. She actively participates in tribal events, cultural gatherings, traditional MeWuk dancing, and currently in a beginner's course learning MeWuk Basket Weaving. She continues to be a student in MeWuk language classes and has attended several conferences and training such as Language is Life, Living Language Circle, and many other California Native language conferences throughout the state.
Miw'üy:at:ik 'uchu:p. Our people are living